Our story
DISCOVER MY PASSION
My inspiration, my creative process, my tactile world
How it all started
I grew up in Belgium: the lawn in the garden and the piano were my playgrounds. Like a lot of children, I made my first little sculpture with my sister in my parents' dining room. I discovered pottery as a student, 15 years ago. I loved this ancestral art, I didn't have a real teacher, thus was sown the seed of an idea that will grow much later. 
I started pottery as a hobby nearly five years ago. After ten years of working as a biologist, and as a teacher, I craved to do something more creative to keep me sane. So I tried an evening pottery class. I was immediately hooked: I would rush home from work every Friday to design late into the evening with my new, creative friends.  It was the perfect outlet for some pent-up creativity after being out of artwork for years. Nobody could see me on Friday evening: "Sorry, on Friday, I have pottery class." 
After a few months, I decided I needed more. I set up a small makeshift workshop in the living room and in the kitchen to be able to create between Friday classes. After three years of Friday pottery classes, I started to learn how to throw clay on Thursdays. I had fallen in love with throwing clay. I remember the first time I centered the clay. Sensations when I was able to create my first coffee cup on the potter's wheel. It was amazing, relaxing and soothing. After that first wheel throwing class, I found myself drowning in ideas and hungry to improve my skills. I became an apprentice at that same pottery studio, spending evenings to hone my skills and bring my ideas to life. 
I then followed several training courses during my holidays, was initiated to decoration techniques, went to glazing workshops. I learned how to throw two different clays together to create mixed clay stoneware objects and had advanced wheel throwing classes in the south of the country. 
In 2020, I took the plunge. I gave up my teaching job to follow my dream and set up my own workshop and ceramics brand. Since then, I'm blessed to regularly train in masterclasses with renowned ceramists. You will find a lot of me in each Elephantom creation, but also a little of all the ceramists and potters who patiently transmitted their passion to me.
"I wish for you to have endless dreams, and the furious desire to achieve some of them."
— Jacques Brel
Elephantom inspiration
 My interest in painters (Kandinsky's abstract art, Georges Braque's cubism, Miro, Pollock, etc.), piano playing since I was six years old, and my work as a biologist and as a teacher all have an influence on the way I design a new creation. I don't think first about the shape. I start with the texture, the clay, the color I want to create, and the sensations the user will feel when holding the object in his hands. Will this mug procure the rough organic feel of textured ceramic slip? Will this centerpiece have the luscious polished surface of porcelain? Will I glaze this coffee cup as little as possible to keep the contact with clay? Only then do I draw the shape that the object will take. For some ceramic objects, I try to create a refined aesthetic that invokes a sense of calm, serenity. For others, I will search the brutal force of clay. I want to take the users of my ceramics on a trip through tactile sensations. 
Each collection is named by a natural phenomenon, a natural element, or an extraordinary landscape. Basalt, Sea ice, Diversity, Hurricane are some of the collections you will find on Elephantom. These names reflect the natural sensations found in Elephantom creations.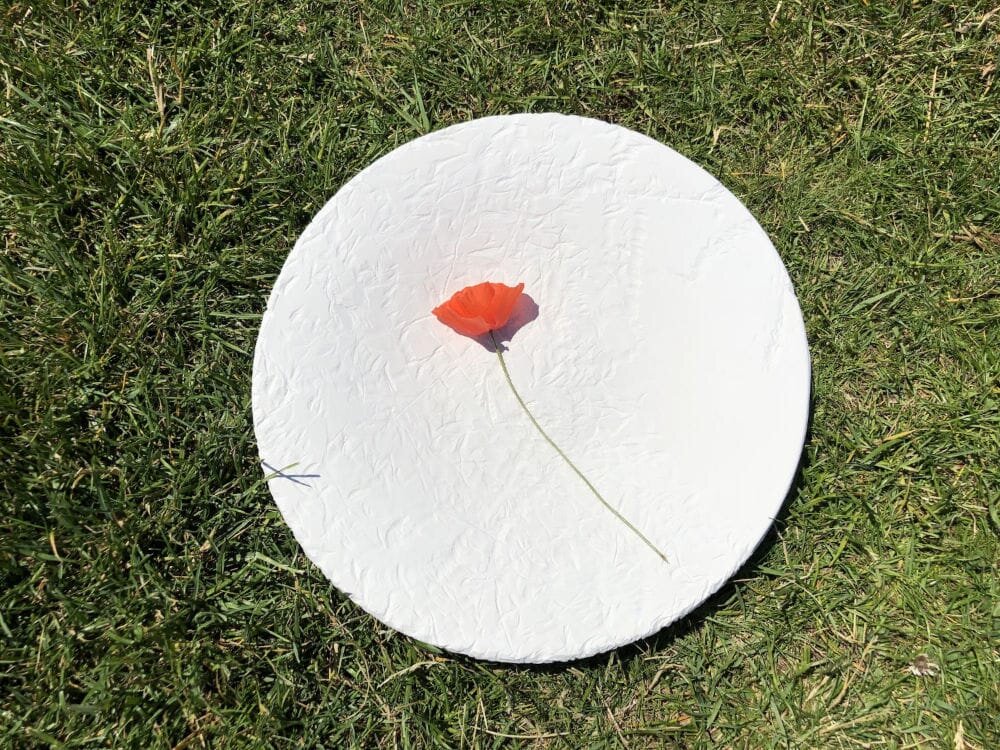 Step-by-step Elephantom design process
Contemporary, sustainable, and uncluttered. 
I design and hand-make all ceramic pieces from my studio located in the Belgian countryside, in Wallonia, just south of Brussels. I mainly make tableware, mugs, sushis plates, cheese platters, plant holders, and contemporary decoration objects, but I also create larger art pieces. 
I try to find shapes that please through simplicity and elegance. I use several techniques: I do wheel throwing, hand building, slab constructing, slip casting, and some personal approach. My preferred method is wheel throwing: I throw both porcelain and stoneware clay on the potter's wheel. They are hand glazed and fired up between 1050 and 1240 degrees Celsius. The Elephantom vessels are high fired and durable. The whole design & production process can take 4 - 6 weeks to complete. 
My work is handcrafted yet still refined. Each Elephantom object has the sturdiness of handmade work: the tableware is meant for use in your everyday life and is dishwasher proof. Each individual ceramic is lovingly crafted to have its own unique characteristics and personality. No two handmade objects are exactly alike. All ceramics are unique and their beauty includes their imperfections - I want each one of my pieces to feel like they have a soul.
"When machines are in control, the beauty they produce is cold and shallow. It is human hand that creates subtlety and warmth"
— Soetsu Yanagi
I enjoy the whole process of crafting objects out of clay, from throwing to trimming to decorating. Ceramics can provide so many different sensations. My work always contains unglazed surfaces to highlight the surfaces: Elephantom decoration items and tableware provide a unique tactile experience. I hope that the amount of joy that I get from making these pieces from beginning to end comes through while you are holding and using them in your everyday life. It makes me so happy to know that pieces I've put time and passion into, make their way to be used, handled, and loved.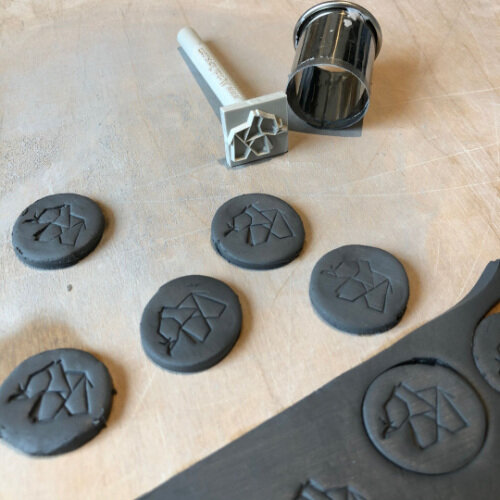 Elephantom ceramics
There is something wonderful about holding a handmade object. It's hard to put into words, but we all know that feeling. I think it's a pretty good feeling. Drinking in a handmade mug is a very different experience to drinking in a mass-manufactured mug. Feel the love and care that went into the piece, taking time to ground yourself in this object. 
Think of me (the ceramist) while choosing a cup from the cupboard, enjoy feeling the shape beneath your fingertips and study the colors and textures while waiting for your hot coffee to cool a little. My hope is that Elephantom creations will bring a little happiness into your everyday activities; serving a family meal, growing a plant, having your morning coffee, sharing cheese and wine with friends, or relaxing with your tea in front of a beautiful Elephantom wall decor. Every single piece of work has its own history as only carefully handmade products can have. Have fun with it!
Thank you so much for supporting my art!